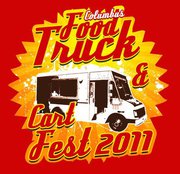 Friday, August 26 ·

4:00pm - 10:00pm

Columbus Commons
The largest food craze trending every major city has become gourmet food trucks & carts. This unique style of street food has been exploding over the past year. We are bringing the best food trucks and carts in Columbus to one location and combining it with live entertainment and beers to create Columbus's first Food Truck & Cart Festival. This festival is meant to showcase the delicious cuisine that is rolling out on our Columbus streets, taking place Friday August 26, 2011 at the brand new Columbus Commons.
FREE Admission, over 20 of central Ohio's best food trucks and carts, portion of the proceeds benefit the Mid Ohio Food bank, Live Music, On-site beer sales, Games for kids and Families, Local vendor booths, raffle prizes including two tickets provided by Dreamseats to the upcoming Foo Fighters concert.
Columbus food truck fest committee is trying to promote the Mid Ohio food bank and raising canned goods awareness. We will be filling the CD101 mobile truck with donated canned goods. All canned goods will be donated to the mid Ohio food bank.
Fun is the simplest description. The atmosphere will be casual and laid back with great music, affordable food and drinks.
Vendor ListEdit
Food vendors already committed, more to be announced soon!
Make Believe Monsters presents: Night of the Living Record (Volume 1), a local music compilation CD release party
Music Performances by: Maza Blaska Bicentennial Bear The Forties Six Panel Driver [[Category:Food Truck Festivals]]
For More InfoEdit
Like us on Facebook
Follow us at @foodtruckf​est11
Official CFTF Website [[Category:trucks]