Description
Edit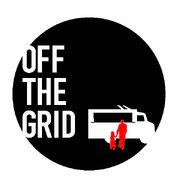 Off the Grid is an organizer and host of food truck and street food markets in the San Francisco Bay Area. Most markets take place in the city of San Francisco, though there are weekly markets in San Mateo and Berkeley, as well. Off the Grid Larkspur is scheduled to launch October 9. In addition to the regular weekly markets, Off the Grid also offers truck placement services for temporary and non-OTG branded events. Two of these are the Proxy Project in Hayes Valley, San Francisco and Off the Grid: Golden Gate Fields in Berkeley.
Born out of the SF Cart Project by founder Matt Cohen in 2009, Off the Grid hosted its first gathering of food trucks and street food vendors at Fort Mason in June, 2010. The event was comprised of 10 food trucks and live music. To this day Fort Mason is Off the Grid's flagship market, with the largest number of food trucks of any of its regular events.
Monday: St. Mary's Square, 11AM-2PM, 4-5 trucks
Monday: San Mateo, 5PM-9PM, 8 trucks
Tuesday: UN Plaza, 11AM-2PM, 6 trucks
Wednesday: 5th and Minna, 11AM-2PM, 6 trucks
Wednesday: North Berkeley, 5PM-9PM, 10 trucks
Thursday: UN Plaza, 11AM-2PM, 6 trucks
Thursday: Upper Haight, 5PM-9PM, 10-13 trucks
Friday: Civic Center, 11AM-2PM, 6 trucks
Friday: 5th and Minna, 11AM-2PM, 6 trucks
Friday: Fort Mason Center, 5PM-10PM, 30 trucks and tents
Saturday: McCoppin Hub, 11AM-3:30PM, 2-4 trucks
Sunday: Larkspur, 11Am-3PM, 7 trucks
See Facebook for exact locations.
Special Events
Edit
In association with the Proxy Project in Hayes Valley, San Francisco, Off the Grid places two trucks for lunch and dinner service six days a week. This is not branded as an Off the Grid event.
Off the Grid hosts a monthly dinner event at the McCoppin Hub location, organized around a special theme. Selected trucks offer dishes that coordinate with the chosen theme and often serve them alongside their regular menus.
July 2, 2011: "Hot Food/Cold Nights" Little Green Cyclo, Toasty Melts, TomKat, Chaac Mool, Senor Sisig.
August 6, 2011: "Don't Worry, Eat Curry" JapaCurry, TomKat, Kasa Indian Truck, Sanguchon, Curry Up Now, Hiyaaa.
September 3, 2011: "Breakfast for Dinner" Arki, Bacon Bacon, Let's Be Frank, Brunch Box.
October 1, 2011: "Backyard BBQ" Smoke BBQ SF, Smokin' Warehouse, Nom Nom, Koja Kitchen
In partnership with Golden Gate Fields, Off the Grid placed 30 trucks at the horse racing venue on four Saturdays in 2011: August 27 and September 3, 10, and 17. The market took place while the races were conducted, and a $6 entrance fee was charged for visitors 18 years and over. Admission for 17 and under was free.
Ad blocker interference detected!
Wikia is a free-to-use site that makes money from advertising. We have a modified experience for viewers using ad blockers

Wikia is not accessible if you've made further modifications. Remove the custom ad blocker rule(s) and the page will load as expected.