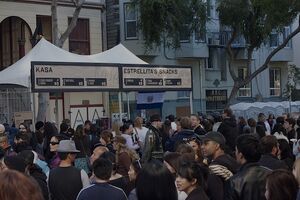 The San Francisco Food Street Festival is a huge celebration of cuisine in San Francisco.
The San Francisco Food Street Festival is always in San Francisco, California. The 2011 festival took place on Saturday, August 20, 2011 from 11AM-7PM in the Mission District, on Folsom St. from 22th to 26th, 23rd and 25th from Treat St. to Shotwell St., as well as the Cesar Chavez Elementary School parking lot and Parque de los Ninos Unidos.
The San Francisco Food Street Festival was started in 2009. 2011's was the 3rd annual festival. They have partnered with the nonprofit kitchen, La Cocina, which has been in business since 2005.
List of vendors
Edit
<3 and Hummus
Along Came Slider
Big-Ass Sandwiches
Co
Delicioso Creperie
Global Soul
Hapa SF
Ica Juices
Ingrid's Lunchbox
Kasa Indian Eatery
Kika's Treats
La Boulange
La Luna Cupcakes
La Mar
LaVictoria
Liba
Los Cilantros
Maite
Namu
Nombe
On The Road Rye Cocktail Services
Osha
The Peached Tortilla
Pizzeria Delfina
Sabores Del Sur
Skillet
Southern Sandwich Co.
Sweets Collection
Three Twins Ice Cream
Zepeda Foods
Wise Sons Jewish Delicatessen
Zella's Soulful Kitchen
External links
Edit
Ad blocker interference detected!
Wikia is a free-to-use site that makes money from advertising. We have a modified experience for viewers using ad blockers

Wikia is not accessible if you've made further modifications. Remove the custom ad blocker rule(s) and the page will load as expected.