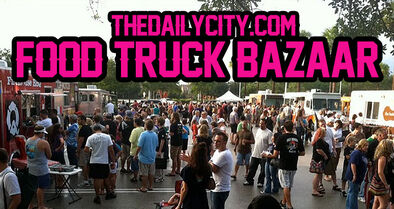 http://www.TheFoodTruckBazaar.com
TheDailyCity.com Food Truck Bazaar is the very first event of its kind in Central Florida. It's a monthly event produced by The Daily City bringing 20 select food trucks and carts from across Central Florida together in Orlando and Oviedo. More cities to come.
Know Before You Go
1. Expect to wait in long lines. While the food is delicious, it does not come fast. Why? Its not fast food. These are restaurants on wheels. Plan to wait.
2. We (The Daily City) have no control over the speed at which the lines move. The food trucks themselves control that.
3. Some trucks will run out of food. This can happen while you're waiting in line.
4. Expect to experience 1 - 2 trucks. If you get to experience more, yay!
5. Think tailgating: if you want to sit down while in line or while eating, bring a chair. Some folks also bring tables or eat in their car/truck.
6. Some trucks do take credit, but many do not, so bring cash. Ones and fives (not tens and twenties) are VERY welcome by the vendors.
Producer

Producing LLC is the Creator and Owner of TheDailyCity.com, the TheDailyCity.com Orlando Food Truck Bazaar, the Orlando Improv Festival, the Audience Choice Awards and many other small cultural community gatherings.
Ad blocker interference detected!
Wikia is a free-to-use site that makes money from advertising. We have a modified experience for viewers using ad blockers

Wikia is not accessible if you've made further modifications. Remove the custom ad blocker rule(s) and the page will load as expected.