Description
Edit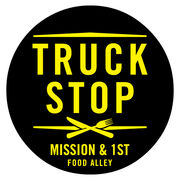 Truck Stop is a food truck gathering located at Mission and First Streets in San Francisco, occupying an alleyway owned by the 450 Mission Street building owners. It is located across from the Transbay Terminal development. As a food truck gathering spot on private property, the truck operators do not have to obtain separate operating permits from the city.
Service hours are from 11AM to 2PM every weekday, and it is open to the public. The space can accommodate three trucks at a time, typically 2 lunch fare and 1 dessert truck.
Truck Stop launched on July 25, 2011 because organizers wanted to bring trucks to their location. The vendors are curated by Jacqueline Murray, national marketing director for KQED.
Ad blocker interference detected!
Wikia is a free-to-use site that makes money from advertising. We have a modified experience for viewers using ad blockers

Wikia is not accessible if you've made further modifications. Remove the custom ad blocker rule(s) and the page will load as expected.