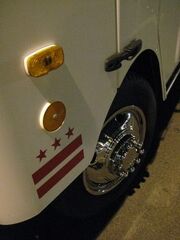 Despite the wide-spread popularity of food trucks, lawmakers aren't moving fast enough to accomodate the growing demand for mobile food businesses. In some areas such as DC, Chicago, and Atlanta, certain laws restrict the "freedom" of food trucks to mobilize their businesses as they see fit.
In Washington, one PR group has taken it upon themselves to fight the good fight on behalf of food trucks everywhere! Institute for Justice, a "libertarian public-interest law firm" based in Arlington "launched its new National Street Vending Initiative early this year in Texas and has since expanded it to Atlanta (where city officials had decided to reserve all public property for a single vending company) and Chicago (where aldermen have proposed rules so severe, they could cut off vending in the entire downtown area). The institute even released a report, "Streets of Dreams," which reviews vending regulations in the country's 50 largest cities, including Washington."
El Paso is one of their success stories, with the city turning over an ordinance that formerly decreed that mobile food businesses could not operate within 1000 ft of other food-related businesses.
Despite their success, Bert Gall, one of the attorneys for Institute for Justice acknowledges that they have a long way to go until proximity and safety code laws are sorted and repealed. And once they are, they must be reviewed officials and restauranteurs who may not be happy with new health regular codes.
Although Gall is focusing on various cities that have strict mobile food regulations, he's very clear on what he wants from Washington, D.C: no proximity restrictions on where food trucks can park.
Read the full story at Washington Post.