Comments

0
Off the Grid Gets the Credit it Deserves
In the past year,
San Francisco
's
Off the Grid
street food market has expanded an astonishing amount. It all started with a Friday evening food truck extravaganza at the Fort Mason Center, but has since expanded so massively that SF foodies can find an organized gathering of food trucks almost every day of the week. In fact these days, there is usually an Off the Grid event for both lunch AND dinner. National attention has finally been given to the enterprise, and it's creator Matt Cohen, with this insightful
article
in the New York Times. The idea for Off the Grid was started when Mr. Cohen found it impossible to open up his own (legal)
ramen
truck in the city. It became clear that there was a demand for streamlining the food truck business, from getting your permits to finding your customers.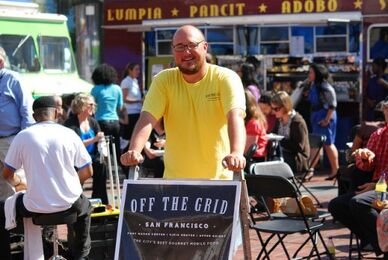 If it wasn't for Off the Grid, we wouldn't have nearly the same amount of food trucks in San Francisco, let alone such spin-offs like the Proxy Project in Hayes Valley and Off the Grid: Berkeley. Furthermore, we probably wouldn't even have the private-land imitations that were inspired by Off the Grid, such as the Lunch Box (located behind the Wikia office) and Truck Stop SF. It may be a sad reflection of the state of San Francisco that it took something as simple as Off the Grid to help budding food entrepreneurs circumvent the bureaucratic charade of obtaining city permits, but at the end of the day, we owe it all to Matt Cohen and his crew. Without them, every chef with wheels would still be waiting to hear back from City Hall and the Department of Recreation & Parks. Waiting and waiting and waiting, while we keep getting hungrier!
So, next time you're in the Bay Area, noshing on a delicious gourmet treat served from a truck or van, just remember that it might not have been possible without Off the Grid.